Heal the world. Cook dinner tonight.
A few years ago, I received a birthday present of multiple spices from Penzeys and included among the jars was a colorful tie-dyed-ish banner about 2-foot square with a big green heart overlayed upon a marble blue earth in the center. Along the bottom it read: Heal the world. Cook dinner tonight.
I wasn't sure I really understood the sentiment, but the banner was beautiful, was exactly the right size to fit into a spot on my kitchen wall, and perfectly matched the colors of a long tapestry I had painted that would hang next to it. So I hung it up and have enjoyed the visual stimulation ever since. But after multiple years, I still hadn't quite figured out how cooking dinner could heal the world.
Jump ahead to last week when a friend gifted me with a free trial to Hello Fresh, a meal delivery company. Unlike GrubHub or Doordash, the food does not come pre-cooked. Every ingredient (other than staples like salt, pepper, olive oil, and butter) that you'll need comes in the exact portions required. The box also included very detailed placards containing not only the preparation directions but also how long each step will take, how to adjust the recipe for different numbers of people and different dietary needs, and how many calories per serving there are. True to its name, the ingredients weren't just fresh, they stayed fresh for almost a week; it took me a little longer to work my way through the five meals, each of which served two people, since there's only one of me.
That has, at least in part, been one of my cooking challenges over the years.
To cook a well-thought-out meal takes time—from planning to grocery shopping to preparing to cleaning up. Even the actual eating often takes longer if it's an actual meal and not just an eating-tuna-out-of-the-can experience … something that I do quite often. To go to all that trouble just for me often requires more energy than I'm willing to give. I remember having a conversation about this once years ago with a classmate in seminary. She retorted, "Oh, so YOU aren't worth the effort of a home-cooked meal?" Point taken.
So, does cooking dinner begin to heal the world by, even on a subconscious level, validating the worth of the person who happens to eat that dinner alone? Maybe.
Does it encourage those single eaters like me to not confine myself to dining solo but to (here's a novel idea) invite a friend over to share the meal? Perhaps. I mean, I don't think it's a fluke that you can't order single servings from Hello Fresh; two is the minimal amount they offer. And the one time I did actually have a friend share the meal with me was more enjoyable, naturally. We had already spent a few hours together in town and then, instead of dealing with parking and crowds, and noise, and tips, etc., we retired to my house, splitting the cooking and cleaning up duties. This allowed us to really relax on my back porch while we ate, continuing to bond and share together in the shedding of some tears as well as much laughter, all in the comfort of perfect outdoor weather conditions. The only thing that ended the experience was when it got too dark for us to see each other (otherwise, we might still be there!). Ah … is that how cooking can begin to heal the world? Maybe.
I'm a lover of etymology and one of my favorite discoveries has been the root of the word "companion." It means "with bread." A companion is someone with whom we break bread. I LOVE that! I feel like it makes every shared meal a potentially holy moment, even sacramental. There's a reason that Jesus instructed his followers at the Last Supper, and why we are reminded every time we partake of the Eucharist, to do this (i.e. break bread) in remembrance of him— and not just remember that there was this guy named Jesus, or even that there's an implied relationship with him that shouldn't be forgotten, but that we are to carry on his work of love, compassion[1], and companioning in the world.
One way to heal a broken world is to break bread with others and in so doing, spend time with them as true companions—bonding, sharing together in the shedding of tears as well as much laughter. I don't know if this is what Penzeys intended with their colorful tie-dyed banner, but it works for me. And I think it just might work for the world.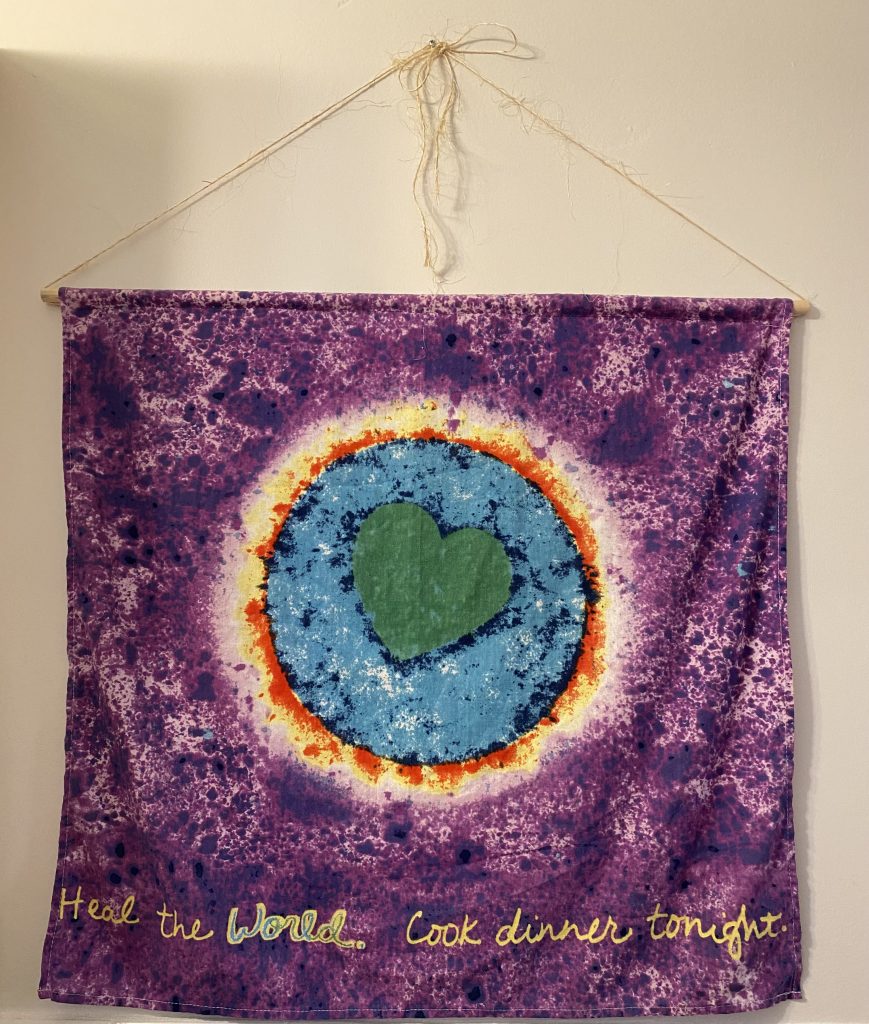 ---
[1] Of course, the etymology of "compassion" means "with passion"—but that's a whole other essay for another time! 😉