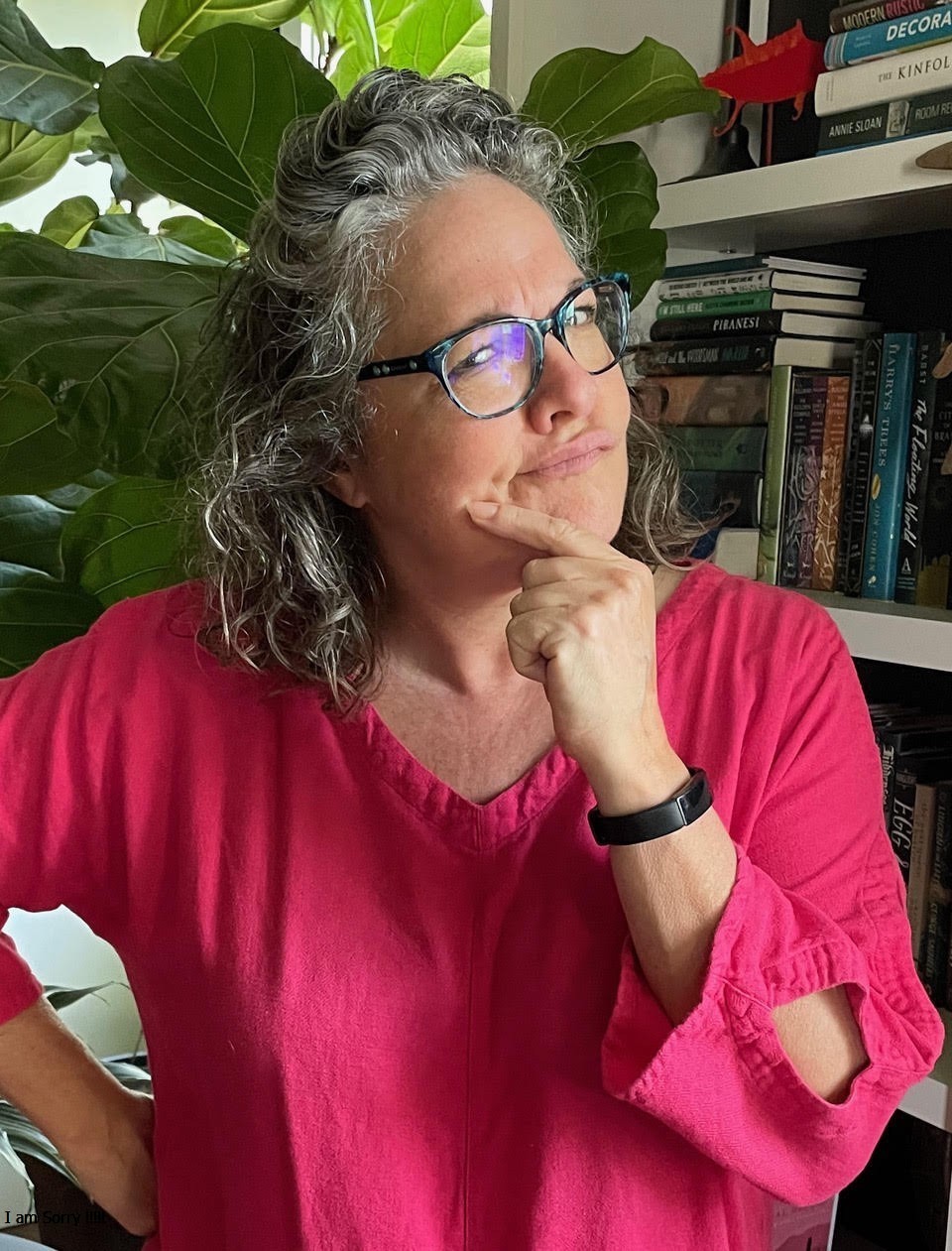 What Tracy Says
Recorded Performances
You can simply go to YouTube and search "Tracy Radosevic" and find several offerings but there are also an ever-growing number of videos at the Biblical Storytelling Library page:
https://biblicalstorytellinglibrary.com/video-category-2/tracy-radosevic/
Podcast: Faith in Focus
Co-hosted with Jason Chesnut, roughly monthly, looking at movies people of faith should see. (Note: These aren't generally your grandparents' movies of "faith" but rather almost any movie—and some are pretty rough!—experienced through the eyes of faith.)
Chapter Contributions to Books and Journals
"Funny You Should Ask: reflections on 30+ years of discovering, embodying, and performing biblical humor"
Biblical Humor and Performance: Audience Experiences that Make Meaning
Edited by Peter Perry
Cascade Books
2023
"Carnal Knowledge: How Performance Criticism Provides Insights into Biblical Women"
Oral History Journal of South Africa
Vol. 5, Issue 2
2017
"The Power of Story: A Spellbindingly Good Tale"
Advocate (Association of Presbyterian Church Educators, Inc.)
Vol. 37, Number 2
2012
"Tandem Telling with Biblical Stories"
Team Up! Tell In Tandem!
Edited by Jonatha Hammer Wright
P.R.E.S.T.O. & U.S. Storytelling Publications, Yellow Springs, OH
2010
"The Word Made Flesh: Embodying and Telling the Stories of the Bible"
Holy Things for Youth Ministry: 13 Practical Sessions
Edited by Brian Hardesty-Crouch
The Pilgrim Press, Cleveland, OH
2010
Books
One is on the way; stay tuned!
Articles
November 2, 2017
(originally published as a Scholarly Musing Constant Contact email for NBSI) Being a lover of etymology, I found myself having a major "aha!" moment on a recent trip to Greece.… Read More
Blog
August 21, 2023
Earlier this summer, I was watching a news show online and one of the commentators kept clearing her throat. It would have been hard to miss, in and of itself,… Read More
August 14, 2023
Ain't for Sissies Two weeks ago, I enjoyed my annual biblical storytelling extravaganza: the yearly Festival Gathering of the Network of Biblical Storytellers, International, preceded by three days of the… Read More
July 17, 2023
Oprah had a feature in her O magazine where she would share "What I Know for Sure" and, in various ways over the years, she has invited her readers and… Read More
July 10, 2023
Shortly after getting settled into my first real adult job in a small town in North Carolina, I made a dental appointment for a routine cleaning. The technician, who also… Read More
June 12, 2023
A few years ago, I received a birthday present of multiple spices from Penzeys and included among the jars was a colorful tie-dyed-ish banner about 2-foot square with a big… Read More
June 5, 2023
Music truly is the universal language. This past weekend was the annual Charles Village Festival. I finally got over there late Sunday afternoon for the final live band performance—Trinidad and… Read More
May 28, 2023
Today is the 7th anniversary of the best day of my life. Because I live in a culture largely based on the number 10 and its multiples, however, making a… Read More
May 22, 2023
I'm currently enjoying a three-month free trial with Amazon music. It's fun to call out, "Alexa, play me some Catherine Russell" and then hear dozens and dozens of fantastic Catherine… Read More
May 1, 2023
Back when I was in seminary, I remember having to drop something off for my friend, Doug. When he met me at the door, he was laughing so hard he… Read More
April 17, 2023
Conventional wisdom tells us that it's young adults who are idealistic and progressive and that the older one gets, the more conservative they become. That has not been the case… Read More
April 10, 2023
Christ is risen, he is risen, indeed! Hallelujah! Among other things, this means that Lent is now over for 2023. Six+ weeks ago I came up with a plan to… Read More
March 27, 2023
As my siblings and I are slowly going through the MANY piles and files at Dad's house, most everything is going into the trash or recycling. But I came upon… Read More
February 27, 2023
"A change of heart or of values without a practice is only another pointless luxury of apassively consumptive way of life."(—Wendell Berry, from the essay "The Idea of a Local… Read More
January 23, 2023
Writing prompt: I opened the refrigerator … I opened the refrigerator and stood there staring. How could there be nothing to eat when Ihad just gone grocery shopping? And had… Read More
January 2, 2023
Writing prompt: The noise coming from the … The noises coming from the apartment below me were clearly those of love making. My bedroom is directly above the 2nd floor… Read More
December 12, 2022
Writing prompt: The smell of the ____________ filled the … The smell of the furnace filled my nostrils as I slowly transitioned from sleep to consciousness. Autumn had been gradually… Read More
December 5, 2022
I am fearfully and wonderfully made. All of us are, and every part of every one of us is. Kind of reminds me of a joke … One day, all… Read More
February 10, 2013
So here we are at the end of the season of Epiphany. Boy, time sure flies when you're having fun! When this season started the first week of January, I… Read More
February 3, 2013
Back in August, I bought a book by Julia Scatliff O'Grady entitled Good Busy: Productivity, Procrastination, and the Endless Pursuit of Balance. It's a little gem aimed at, as the… Read More
January 27, 2013
In mid-December, I read a Newsweek article by Oliver Burkeman on why resolutions, particularly at the beginning of a new year, fail. Apparently, willpower is a "depletable resource: the more… Read More
January 20, 2013
Do you remember as a kid, or more likely a teenager, defiantly declaring that you were NEVER going to be like your mom or dad when you grew up? Well,… Read More
January 13, 2013
Back in June of 2011, I broke my left heel (the calcaneus) and had surgery to insert two screws that pulled the pieces back together. I was on crutches for… Read More
January 6, 2013
Today is Epiphany, the start of my favorite liturgical season. It's not most people's favorite, maybe because it's not as "sexy" as Christmas and Easter or as "Christian" as Lent… Read More
November 25, 2011
I just went back and reread my last half dozen or so blog entries. Goodness! A lot has happened in the past four months since that first physical therapy visit!… Read More
July 21, 2011
My poor, pitiful, atrophied leg.
July 6, 2011
Today marks one month since my initial heel surgery. I was originally told that I'd have to stay off my left foot for 6-8 weeks, erring more on the side… Read More
July 1, 2011
Normally on a person's first Coumadin Clinic visit the people there spend a good bit of time counseling the patient. A large part of that deals with what foods to… Read More
June 29, 2011
So, I finally got discharged this past Monday. It came as a bit of a surprise, actually. I'd been taking Coumadin (in addition to the Heparin drip they'd immediately put… Read More
June 27, 2011
When I finally got to my hospital room at 3:00 a.m. last Thursday morning, I was acutely aware that there was someone else already in the room on the other… Read More
June 26, 2011
OK, I'm just going to say it: I'm weird! I've been saying this in one way or another for a long time. In many aspects of my life I don't… Read More
June 25, 2011
I have been amazed — and delighted! — at the number of foreign-born doctors, interns, techs, and nurses who have taken care of me. I would have expected a couple… Read More
June 24, 2011
Having been around death since a young child, I've always been fascinated by the euphemisms used for it: passed on or away, expired (like old milk!!), pushing daisies, gone on… Read More
June 23, 2011
On Tuesday I had my first post-op appointment where they took off all the wrappings/splint/cast and I got to see my very hairy and somewhat atrophied leg (not to mention… Read More
June 20, 2011
Well, I passed my "big test" by successfully completing a VERY full weekend of activities in Rochester, MN. (Note: This is where the Mayo Clinic is so most people who… Read More
June 12, 2011
The surgery last Wednesday went well. I did NOT get nauseous (for which I'm immensely grateful since I don't "do" throw up!) and I've been in very little pain. I… Read More
June 5, 2011
I'm one of those people who is so afraid of missing a life lesson that I sometimes don't even let the complete experience play out before I'm deconstructing it, analyzing… Read More
June 4, 2011
I've been vexed with various foot issues for well over a year now. Turns out (among other possible things!) I've had a stress fracture in my left heel for some… Read More
March 6, 2011
There's doing unto others and then there's DOING UNTO OTHERS. I remember once as a kid giving my explanation of the Golden Rule to one of my younger siblings. "If… Read More
March 5, 2011
A strength taken to an extreme becomes a weakness. This adage isn't new to me but I experienced it in a different way on my latest pilgrimage to the Middle… Read More
March 4, 2011
It's official … I've outlived my mother. On November 28, 2010, I was the exact age my mom was when the cancer finally won the war the two of them… Read More
March 3, 2011
No, this isn't a plug for the army. Nor is it a plucky DaleCarnegieAnthonyRobbinsJackCanfield-esque attempt at motivation. It's simply a helpful reminder. Many neighborhoods in Baltimore, like most cities, set… Read More
March 2, 2011
Are there sweeter words to a storyteller's ear? This past fall I performed at my sister's church in Lake Charles, Louisiana. Among other things, I told a number of stories… Read More
March 1, 2011
The Boy Scouts may have made this pledge their own but it's not a bad piece of advice for any of us. Over the years, I've often been asked if… Read More