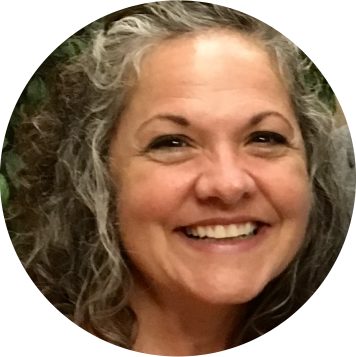 What Tracy Offers
Workshops
Tracy's workshops usually run 90 minutes (with the possibility of more than one of these sessions
in the course of a day, weekend, or series of midweek days) but can be adapted to 60 minutes if need be. To get the creative juices flowing, there is a list of possible workshops below. Not believing in a cookie-cutter approach, however, Tracy prefers to "interview" her patrons beforehand to learn as much as she can about the potential participants so as to custom design an offering that best meets the needs of each group. Don't feel bound by this list, therefore; if you don't see what you're looking for below, feel free to make a specific request and she'll see what she can do!
MULLing the Biblical Story
Learn the nuts and bolts of narrative analysis and story embodiment for well-grounded internalization and powerful performances using the easy-to-remember acronym MULL. This is a basic biblical storytelling 101 experience.
Worth 1000 Words
Communication is more than just written or spoken words. What movie are you projecting for your
audience with your facial expressions, hand gestures, body movements, and postures? And how is this
movie nuanced by the tone of voice, sound effects, and pauses?
Making the Connection
Stories are perhaps the best tool for bridging gaps and linking us with other human beings. In this age of physically distanced techno-communication, we need more than ever to intentionally "make the connection," eyeball to eyeball, with other living, breathing people. Our souls depend on it.
From Text to Talkies: Communicating the Good News in a Digital World
The experiential world of oral narrative fits quite naturally into today's digital culture. This workshop will explore and model ways to combine the effective use of traditional storytelling with high-(and low!)-tech communication. Useful for worship, education, community-building, and evangelism.
Taking a Deeper Dive
Concentrating on a specific biblical story, this workshop utilizes various methods and approaches for exploring below its surface in an attempt to experience deeper, multi-dimensional meanings. Great for spiritual formation and making a biblical story your own.
New, New Ways to Tell the Old, Old Story
Just telling the story usually does the job but occasionally, situations call for a bit more. Learn a variety of ways to share your stories, including the use of numerous support materials for multiple intelligences. A favorite with educators, librarians, parents, and grandparents.
Seminars
Any of the workshops listed above (as well as other topics of interest that you suggest!) can be adapted to a more left-brain, discussion-oriented scenario. This format might also work well for more contemplative times of the liturgical year where a narrower focus of a biblical passage could be experienced through a biblical performance criticism and oral exegesis pedagogy. Likewise, a general exploration of this approach to biblical interpretation and proclamation, examining its ancient roots and current applications, would work well in a seminar setting.
Retreats
Multiple-day retreats allow for a wider breadth of experiences as well as the time to go deeper with reflective and formational activities. Some combination of the topics listed above would just be the tip of the iceberg for the multi-dimensional possibilities that could be designed for you. Tracy has experience leading retreats for all sorts of demographics—children, adolescent females, teens, college co-eds, adults, senior citizens, intergenerational crowds, pastors, lay readers, Sunday school teachers, youth leaders, healthcare workers, women's/men's groups, you name it!—and is intentional about "changing it up" so that all learning styles are represented, and multiple pedagogical approaches are employed.
Additional retreat themes could include a focus on various seasons of the church year, a particular biblical story or book of the Bible, biblical themes (i.e. faith, perseverance, justice, peace, love, forgiveness, righteousness, etc.), biblical women, followers of Jesus, the descendants of Abraham and Sarah, exploring what the Bible has to say to current events, using biblical stories to establish and deepen spiritual practices … the sky isn't even the limit!
** A few openings left for a women's retreat this Nov. 3-5. Sign up now!
Performances
While Tracy does occasionally perform personal stories, folktales, and midrashim, her wheelhouse is mainly biblical. She appreciates the opportunity to learn new stories so feel free to make requests (just know that she'll need more than a week to do the learning process justice!). She has been hired to tell a single story (i.e. the scripture lesson for worship), to fill a Sunday school or fellowship hour, and for her 2+ hour performance of the entire Gospel of Mark, just to give some examples. Like the retreat suggestions above, she's also happy to design a performative experience around themes. Just ask!
Coaching
For those seeking one-on-one coaching with their storytelling, Tracy brings decades of experience to assist and encourage tellers by offering observations and suggestions for honing their own performance skills. This can easily be done virtually and can include stories other than those from the Bible.
Pulpit Supply
Tracy has often been asked to guest preach and she relishes the opportunity to offer congregations a somewhat different experience from the standard preaching style by weaving together several stories, each "interpreting" the others, where the message (i.e. "sermon") of the subsequent whole is greater than the sum of the individual parts. She's happy to follow the lectionary if desired.
Pilgrimages
Tracy has been blessed with the opportunity to shepherd multiple groups into a deeper spiritual experience while journeying through sacred regions around the world. Learn more about them here.
Testimonials